Tips for Proper Maintenance of Mining Equipment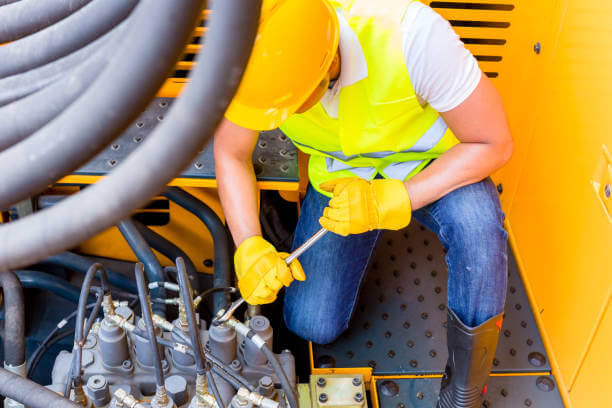 Proper maintenance of mining equipment, including vehicles and conveying systems, will improve productivity and efficiency. Due to the unique nature of mining equipment, workers must take extra care when maintaining and repairing machinery.
Ensure Proper Lubrication
Machinery that isn't properly lubricated can experience greater stress, be more susceptible to damage and may become less productive. This could lead to a reduction in productivity or even a worker safety hazard. For optimal performance and longevity, mining equipment must be lubricated on a regular basis. However, workers need to know how much lubricant is needed.
Maintain Equipment Clean
Mining is associated with rapid accumulations of dirt, mud, and grit. Dirty equipment can cause problems and stop production. It is important to clean equipment regularly using the correct products and techniques. When possible, machines or other essential parts should be kept in a protected structure or under a tarp.
Address Wear and Tear Immediately
Equipment that is used constantly or under heavy wear can cause even minor damage to quickly escalate. It is important to inspect all mining equipment regularly and address any wear or tear immediately. This will extend the equipment's life expectancy and increase its performance. Proper maintenance of mining equipment also speeds up mining operations and increase worker safety.
Correctly Train Workers
Employee training is key to the maintenance of mine equipment and conveyors. Mining machinery is extremely specialized and requires specialized knowledge in order to properly service it. Only employees who have received proper training in safety and maintenance should be able to service equipment.
What Is the Importance of Reliability in the Mining Industry?
Proper maintenance of mining equipment gives you and your company the assurance that your machinery will work as you expect it to. It is an essential component of your mining operations.
It Protects You
The recent occupational mining death rate was lower than it was in previous decades. This is due to the advancements in mining equipment that was designed with safety in mind.
It Makes You More Marketable
You can take on more mining projects with consistent equipment while maintaining a low cost per ton. This gives you a competitive edge. It boosts employee confidence: Providing the right equipment and materials is one of the best ways for staff to feel more confident.
It Improves Site Efficiency
Reliable equipment results in lower downtime and greater productivity at the mine site. Minor equipment maintenance and replacement are all that is required.
The Importance of High-Quality Mining Equipment
Your fleet will function properly if your mining machines work efficiently. It is crucial that your equipment is up-to-date. Maintenance of mining equipment also ensures safety for your workers and keep project costs down. This will save you time, stress, as well as the potential dangers of faulty equipment.
Reliable mining equipment is important because it provides:
Safety
In 2019, mining equipment was the second leading cause of fatalities. The hazards of stalls and dull brakes, fires or rollovers, electrocution, and other hazards at a mining site are reduced by efficient equipment.
Efficiency
Your team can complete their job faster and more efficiently with well-maintained components such as wheels, tracks, efficiency brakes, and others.
Savings
Efficient machines will also reduce your cost per ton, and help you achieve your daily ore goals without causing unnecessary delays.
To assess your equipment's efficiency, keep accurate logs of all processing times, maintenance, accidents, injuries, parts replacements and fuel prices. Keep track of changes, trends and patterns over time.
Ways to Increase Mining Productivity
Productivity is a key word in the mining industry.
Maintain a steady or increasing productivity in materials mined and transported.

You are capable of managing safety for crew, equipment and the surrounding environment.

You can protect your bottom line by seeking out ways to reduce costs and waste.

Perform various tasks accurately while seeking out new ways to improve efficiency.
These tips will show you how to improve your mining productivity.
Keep a Strong Team
While you already know the importance of reliable and efficient mining equipment, the people who use it are just as important. Your mine's productivity is largely determined by your team.
Training opportunities: Make investments in quality training programs for current and new employees. Continuous training classes are required throughout the year and when necessary to adjust industry benchmarks, staff restructuring and new equipment.
Collecting feedback from employees: Have open meetings, questionnaires, and one-on-one conversations with employees to gather feedback about their job performance. These changes will create a healthier work environment and give your employees the tools they need for success.
Employee cross-training: Cross-train the best workers in different industries, such as mining components, job tasks, or special equipment. This will lower the cost of hiring additional help and increase your long-term career prospects for your existing employees.
Prepare the team before you start working on a project: Site issues, prerequisites, long-term goals, and site guidelines are all important for safe and efficient equipment operation. Provide site-specific training if necessary.
Safety and health are essential: Avoid dangerous and life-threatening situations by prioritizing safety and health in your procurement and assignment decisions. Although hazardous working conditions can be dangerous, they can also prove costly. Mining injuries can cause costly downtime, and could even result in the destruction of equipment or resources.
Maximize Your Time and Use Your Resources
Your company will have a competitive edge if you maximize your time and resources. This allows your team and suppliers to work more efficiently, protects profits and helps you gain a competitive advantage. Two ways to significantly improve your fleet, toolkits, and practices are waste management and automated systems.
To be productive and protect the environment, it is important to minimize site and material waste. This is especially true in non-renewable resource areas. Your knowledge of green practices could be used to adapt to new jobs that have stricter mining regulations. This will reduce the need for additional training and give you an advantage over those who don't already have waste management training.
Make use of techniques and material equipment upgrades to automate as many routine tasks as possible. This includes supply inventory management to prevent oversupply and monitoring and filling purchase orders for additional materials. It also automatically schedules fleet preventive maintenance.
Contact Us
Becker Wholesale Mine Supply is a mine-supply company that has been in the mining industry for more than a decade now. We focus on producing and selling mining equipment to improve your productivity and keep you and your miners safe at work. For more information on what we offer, contact our team today.
Products That We Offer