What Are the Most Common Mining Accidents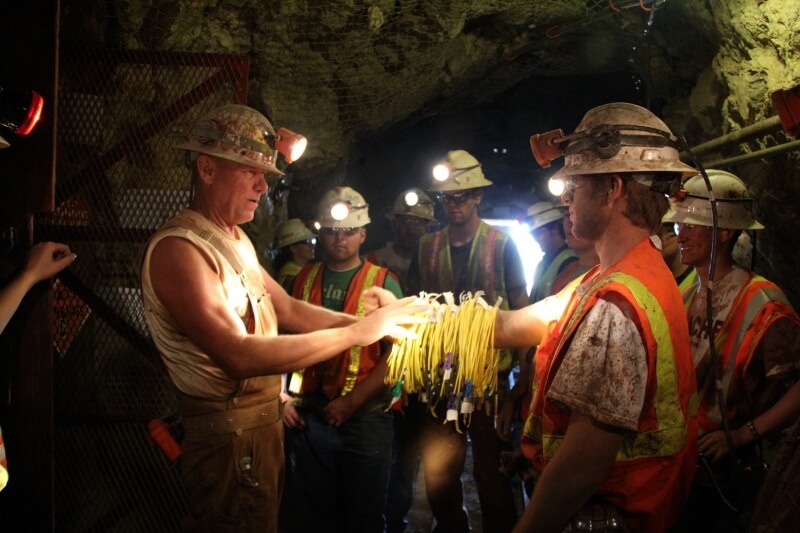 Safety should be at the core of every mining site to avoid common mining accidents. As one of the world's most dangerous occupations, mining industry sites require detailed rules, procedures and precautions in order to prevent injuries. New technology has helped the lower coal mining death rates considerably as well as reduces the number of common injuries in the field. 
Methane and Coal Dust Explosions
Layers of coal will contain methane gas which is explosive and the natural brittle nature of coal also produces coal dust which can be flammable. Dust and gas can be explosive in a high concentration and the fire and explosion will attempt to vent to an above ground location moving through electrical equipment and workers in the mine if the presence of a gas is not detected. 
These explosions can trap miners underground and can lead to a series of injuries. Educating workers about the various risks and arming workers with explosion proof equipment as well as gas sensors can be important. 
Blast Explosions
Because blasting can break rocks and reveal additional resources, it is essential to mining. However, if it is not properly protected, it can cause severe and fatal injuries to both workers and civilians.
One of the following causes can lead to injuries from blasting explosions:
Flying Rocks – Blast explosions are another serious cause of danger in the mining industry. Breaking rocks to uncover additional resources needs to be done in a pre-planned method. Accidents can happen however and blasting explosion injuries can occur from the result of flying rocks. Sometimes miscalculations through the demolition will lead to flying rock distances that can produce harm in a mine. 

Premature Blasts – Premature blasting incidents are rare but they can happen with faulty fuses and degenerating explosives. Partial or complete failures of detonating charges can also result in injuries as components are triggered through later excavation. Inspecting charges and accounting for all equipment is the best way to prevent these incidents from occurring.

Seismic Events Due to Detonations – Detonations and explosives can also cause seismic events in mines. Without appropriate mind mapping it's possible that a mine might collapse and trapped workers. Active regions such as mountains or other forms of seismic regions can also be more susceptible to shifting and these issues in mining. Extensive pre-planning and inspection of materials can avoid these types of worker injury.
How to Prevent Common Mining Accidents
Mining is a dangerous job. Equipment malfunctions, explosions, slips and falls, toxic gas leakages, flooding, and other hazards can all lead to mining accidents. While hazards in mines will not disappear, we can reduce them.
Do Not Ignore the Danger
To ensure your safety, you must be aware that mining can be dangerous. Recognize the dangers inherent in the mining industry and be alert at all times. Be sure to look out for your coworkers and don't let your guard down. In a split second, accidents with serious consequences can happen.
Dangerous Tasks Require Planning and Communication
Don't just think about completing tasks as quickly as possible when planning. Safety requirements require extra money and time. When you are trying to meet deadlines and improve the quality of your work, don't compromise safety. Every risk should be evaluated, even the possibility of an accident. As much as possible, eliminate all risks. If there is still a risk, give your team clear instructions and teach them how to reduce it. If danger arises, you should deal with it.
Receive Professional Training
Safety training should be completed on a regular basis for all team members to avoid common mining accidents. This should not be limited to new members of the team. Refresher courses should be offered to all employees, even those who have been working for years. Practical and theory-based safety training can prove very beneficial. Workers with physically demanding jobs may need to have their health checked to ensure they are fit for work.
Always Wear Safety Equipment
Mining workers have a variety of safety equipment to protect themselves, including helmets, radio communication equipment, gas detectors, safety glasses and gloves. Safety equipment should be worn by all workers at all times. Helmets have saved many workers, as has been proven by numerous stories.
Supervise Your Team
The supervisor should also be vigilant about monitoring and enforcing safety rules to avoid common mining accidents. You should never allow more people to visit a site than you are allowed. Supervisors should also know the whereabouts of each member of the team at all times during a shift. All workers need to be informed about the activities of their coworkers throughout the day. You should never allow your team members to break safety rules without warning them or, in cases of repeated disobedience with appropriate consequences.
Document Your Safety Procedures
All team members need to know what to do in case of an accident. It is important to clearly define safety procedures. When documenting safety procedures, be specific about the possible incidents, what should be done, and who to contact. It is important that safety procedures are clearly displayed in places where team members can easily access them.
Follow the Latest Safety Standards
Make sure that safety equipment is maintained regularly and meets all current safety standards. Don't try to save money on safety equipment. Replace any item that does not meet current safety standards. This can even mean additional expenses or delays. Even if it is for a brief period, never allow staff to use unsafe equipment.
Safety-related incidents are common in the mining industry. Some of these tragedies could have been avoided, unfortunately. Do not repeat the mistakes of others. Although there are no guarantees that all risks will be eliminated, the tips above can make a difference.
Contact Us
When it comes to safety-related equipment, the cost isn't just measured in the price of the product itself, but also in its effectiveness. Becker Wholesale Mine Supply understands this, which is why we offer high-quality gas detectors for miners that are tested and verified by independent laboratories. We can provide you with instruments that have been tried and tested. Contact us today.
Other Products We Offer
To learn more about the products that we offer contact us or visit our website.