Can Different Walkie-Talkies Collaborate Seamlessly?
In the fast-paced and high-stakes environment of mining, maintaining seamless communication is not just important; it's crucial. Walkie-talkies serve as a lifeline for miners, ensuring uninterrupted contact even in the deepest and most signal-unfriendly depths. However, a common question arises: "Can two different walkie-talkies work together?" Surprisingly, the answer is affirmative! As long as they operate on the same frequency band and can be programmed to use the same channels, walkie-talkies from different brands can collaborate effectively.

Walkie-Talkies From Diverse Brands
The market is flooded with walkie-talkies from diverse brands, which often prompts the question of whether they can function together cohesively. While connecting different brands is possible, several factors need to be taken into consideration. Firstly, not all two-way radios are compatible due to varying frequency ranges. Therefore, ensuring the compatibility of frequency ranges is paramount for effective communication.
Furthermore, it's essential to recognize that not all walkie-talkies are created equal. Some boast extended ranges and enhanced durability, making them better suited for demanding and rugged mining environments. Thus, understanding your specific needs before making a purchase is essential. Remember that your walkie-talkies should continuously operate within the authorized frequency range to prevent interference with emergency services or licensed radio users. Once you have met these conditions, using walkie-talkies from different brands is entirely feasible.
But what if you have larger teams? Can more than two walkie-talkies share the same frequency? Absolutely! Two-way radios communicate on the same frequency, meaning there's no limit to the number of devices that can link together. This versatility allows you to keep your entire team connected, which is a vital aspect in mining sites where mobile phone coverage can be erratic.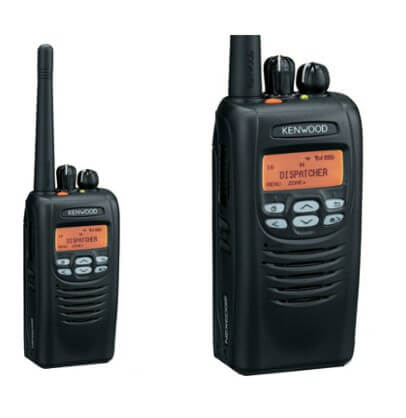 Linking Walkie-Talkies
Linking walkie-talkies together involves several steps. First and foremost, ensure the devices are compatible, i.e., they can operate on the same frequency. Additionally, they should be within range, with the maximum distance depending on the individual radio's range. Once these factors are confirmed, choose a channel for communication and tune all radios to this channel.
However, it's important to note that your channel won't be private if you're using unlicensed radios. Anyone can tune into the same channel and listen to your conversations. To ensure secure communication, consider purchasing licensed radios and applying for a radio license.
Can walkie-talkies be intercepted? Yes, your communication is vulnerable to interception if you use budget radios on public channels. For a secure line of communication, licensed radios with a unique frequency are ideal, as they cannot be accessed by the public.
Choosing a radio with secure channels is non-negotiable when it comes to securing communication in a mining environment. Why is that? Because unsecured channels can be easily intercepted, potentially compromising sensitive data or crucial safety instructions. Licensed radios, equipped with unique frequencies and encryption capabilities, provide a secure line of communication. These radios only permit authorized users to tune in, ensuring your conversations remain within the confines of your team. Additionally, having multiple channels offers better organization, enabling different teams or units to communicate independently without interference.
Mining is not a job for the faint-hearted, and your radio equipment should reflect that. It's crucial to invest in radios that offer dust-proofing and robust construction. Mining sites can be gritty and dusty environments, and your walkie-talkies must withstand these conditions without compromising performance. A sturdy and well-constructed radio can handle the occasional bumps and drops that are inevitable in such a dynamic setting. Moreover, radios operating on a leaky feeder system are a boon for underground mining. This system facilitates radio coverage in winding tunnels and deep mines, ensuring your team stays connected, no matter how far underground. In the mining world, communication is your lifeline, and a sturdy, dust-proof radio that operates on a leaky feeder system is your best bet.

Conclusion
Different brands of walkie-talkies can indeed work together effectively, provided they are compatible and operate within the authorized frequency range. At Becker Mining USA, we prioritize ensuring smooth and uninterrupted communication on mining sites. If you require guidance on choosing the right walkie-talkie for your specific needs or need assistance with linking your radios, our dedicated team is always ready to provide support.
Remember, the success of mining operations hinges on effective communication, and with the right walkie-talkies, you can ensure that your voice is heard, no matter how deep you dig.
Learn More With Us
Contact us today or visit our website to learn more can different walkie-talkies collaborate in your mining site. We can take you through the best education for your business now. 
Products That We Offer
Take control of your mining communication systems today! With Becker Wholesale Mine Supply, the leading manufacturer in the USA. Contact us now and revolutionize your mining communication systems!
Take the first step towards powering up your operations, call us at +1-724-515-4993