Becker Varis Gas Monitoring System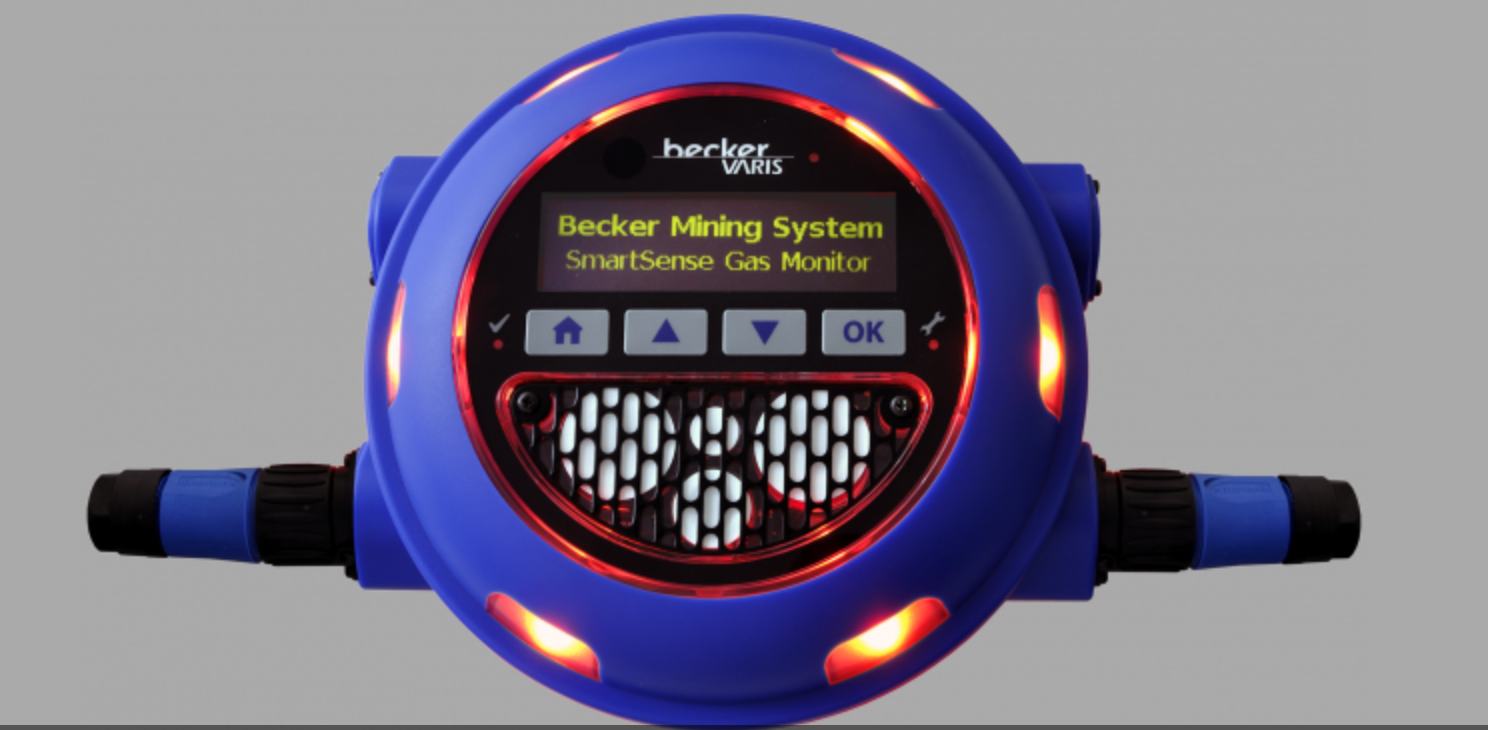 Gas monitoring in mining environments saves lives. The Becker Varis gas monitoring system SSFM-100 is an all-in-one gas monitoring station allowing for up to four integrated gas sensors into a compact package, with true flexibility and reliability for environmental monitoring. The smartsense® fixed monitor has a unique 360° Alarm® that is auto adjustable to the backlight and programmable alarm set points. The calibration record and alarm history can be invaluable in an emergency.
The smart sense gas monitor works like a black box system to store critical information such as calibration records, alarm history, and data logging.  This is a key safety feature in the event of an accident. The three programmable alarm set points for Alarm and Output controls make it possible to view the reading from up to 5M away.
In addition, the Short Term Exposure Limit (STEL) and Time Weighted Average (TWA) limits are displayed on the extra-large LCD display. The SSFM-100 is ideal for industrial applications where space is limited, yet gas monitoring is essential.
Gas monitoring with a sophisticated device like this can ensure that everyone in a mining environment stays safe. Unlike older-style gas monitoring systems, this option can detect harmful gasses at the earliest danger sign and prevent a potential tragedy.
The auto adjustable backlight features an easy-read technology that provides the best signaling to on-site crews. This device offers the surest signs of monitoring and the best options for safety for all. 
With additional detection options for:
Sulphur Dioxide SO2

Hydrogen Sulphide H2S

Nitrogen Dioxide NO2

Temperature

Humidity

Air Velocity
A business can customize the gas monitor to the specific gas and environmental conditions they are working in.
The device is also intrinsically safe and can be used in various locations with explosive risks. If you need assistance calibrating the monitor or you need help with troubleshooting, our technical support services are available 24/7.
Becker Varis is committed to safety and providing the best gas monitoring technology for mining applications.
The monitor has an incredible temperature rating and can be used in several settings. You can rely on the Becker Varis SSFM-100 to keep you and your employees safe while working. This is a noncondensing monitor with a heavy-duty IP rating of IP67. The device is fully sealed and designed to work in the world's most hostile environments. 
Reliability and monitoring from this highly unique 360-degree alarm can be some of the best in the world. If you are ready to outfit your mining site with the best gas monitoring from a highly compact, accurate, and reliable device, look no further than the SSFM-100 from Becker Varis. 
Contact us today  at Becker Wholesale Mine Supply if you want to learn more about the Becker varis gas monitoring system or other Becker Varis products designed for mining applications. We can help you integrate this device into your network or create a custom solution for your specific needs. When it comes to the safety of your workers, don't take chances – choose Becker Varis.