Becker Mining Systems' Solution for Gas Monitoring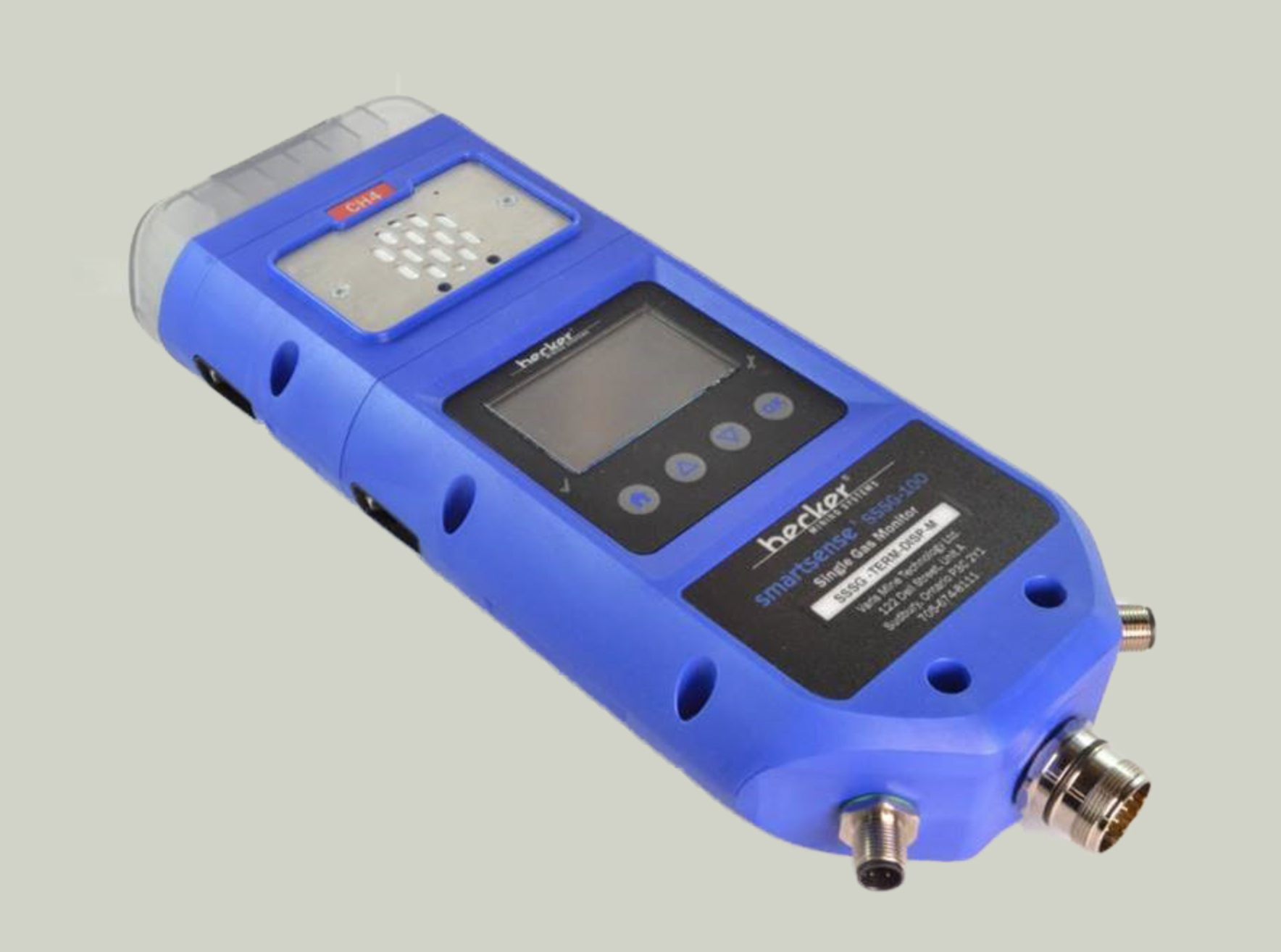 Toxic gases can still cause fatalities in the mining industry. Every day, toxic gases are being released underground in large quantities that cannot be detected by the human eye. The air we breathe on the surface is made up of several gases. Underground oxygen levels can drop when other gases are added to the air, posing a danger to the lives of anyone working in the area. This is a serious concern for all miners. Monitoring the presence of hazardous gases is essential for underground workers to be able safely and efficiently perform their daily tasks. These gases can become trapped in tight spaces and are not always dispersed. This is a grave problem that can lead to fatalities due to their explosive, combustible and toxic properties. This dangerous mixture of gases can have varying effects on mine safety and human health. A high-quality detection system is the best way to reduce the risk of hazardous gases in a mine environment. Becker Mining Systems offers a solution for gas monitoring that will meet your requirements.
The Mining Industry's Current Trends
The improvement and maintenance of safety and health standards is a constant trend in the mining industry. We wouldn't have the industry that is so successful today without a high standard. We can't operate in the mining industry without those who are on the front lines.
Solutions by Becker Mining Systems
Introducing: Smartsense(r), a gas monitoring line that provides high-accuracy solutions for every day mine operations, is now available. Each device can monitor multiple gases, including oxygen, methane, carbon dioxide, carbon monoxide, hydrogen sulphide and nitrogen dioxide, etc. These devices can also warn miners living near harmful gases to get out of the way until appropriate measures are taken. It saves lives. This is a great solution for gas monitoring!
Smartsense(r), Fixed Gas Monitor SSFM100
The smartsense(r), SSFM-100 device has a significant advantage over other monitoring systems in that it integrates all features into one compact instrument. It is easy to connect cables, program or calibrate without complicated connections.
Smartsense(r), a system that addresses the operational requirements of modern mines, provides reliable, robust and low-maintenance environmental and atmospheric monitoring systems. Smartsense(r), a line of products, has been developed to meet strict international standards. This ensures a reliable and quality product that can withstand harsh environments. Each point can measure up to four gases at once and 10 parameters. Mounted in the areas of greatest interest is the main measuring unit, smartsense(r), Fixed Monitor SSFM100. It is equipped with integrated controller functions. It acts as a blackbox on the spot to store critical information, such as alarm history and calibration records. This all-in-one package eliminates the need to connect complicated cables and programs. Each client can customize the system to meet their specific installation needs, including copper (RS485/Ethernet), radio frequency(UHF-VHF Radio/WiFi) and fiber optic data connectivity.
smartsense (r) Single Gas Monitor SSG-100
Becker Mining Systems released a customisable gas monitor unit that can be used in any mining environment. Smartsense(r), Single Gas Monitor SSSG 100 has been designed for safety and convenience. The IS-designed terminal module is available in two versions. One version comes with an integrated sensor that provides an all-in one environmental monitoring solution. The other features a display module that allows quick access to current data. The optional external input/output ports are available for both versions.
Its modular architecture allows for multi-gas monitoring systems that are robust and customizable by adding up six SSSG100 sensor modules. These modules stack neatly and easily. Hot-swap technology makes it easy to calibrate and replace sensors. The SSSG-specific calibration caps allow for a fast and efficient LED-guided calibration process.
With its 100 dBa alarm and wide viewing angle, the SSSG-100 Alarm module provides extra security. Smartsense(r), Single Gas Monitor (SSSG-100) functions as a black box. It stores important information like alarm history and calibration, as well as data logging for post-accident investigation.
You can configure and view RS-485 Modbus to see fully-programmable alarm and output control set points, as well as short term exposure limits and time weighted average limit for sensor module modules.
Other Products
Becker Mining Systems' product range, which complies to stringent government mining regulations, mining house specifications, also includes high-performance communication and safety solutions for underground or surface mining, such as Leaky Feeder and Wi-Fi Tracking, Environmental Monitoring and Proximity Detection Systems.
Becker Mining Systems offers communication solutions as well as fluid transfer and underground transportation systems. All systems are built to allow for future expansions.
Becker's critical services include the design and manufacturing of products and systems using the most advanced technologies and materials. Implementing one or more of Becker's multi-technological solutions is a significant step to improve mine safety, which includes our environmental and atmospheric monitoring system.
Conclusion
Becker Mining Systems strives to provide the best quality products available. We are constantly developing new products and implementing innovative systems strategies to improve safety and health in the industry. Becker Mining Systems is driven by passion to ensure sustainable and safer mining around the globe through smartsense(r), and smartcom(r). you can learn more about Becker Mining Systems' Solution for Gas Monitoring here! If you would like to speak with a team member you can contact us today!